---
---
Tornadoes: 14
Hail: Quarter (1.00)
Winds: (50mph)
Miles: ??
Chased with:
Mark Kleinwechter, Kelton Halbert, James Gustina, and Tabbs (Trunk monkey spot).
Chasers encountered:
Gabe Garfield, Tim Marquis.
---
Huge huge HUGE day! Best of my life so far. We started off the day in Norman the same as the last two.  We left around 11 am to head north on the Northwest Passage to Woodward.  After a quick stop at  Chick Fil-A we pushed west on I-40. Models had been consistent in storms going up in a very favorable environment for tornadoes along a stalled outflow boundary from the early day MCS. 0-3km SRH around 400 with cape upwards of 3000 j/kg looked primed. We decided to push further north after the MD from SPC with a target near Minneola, KS.
---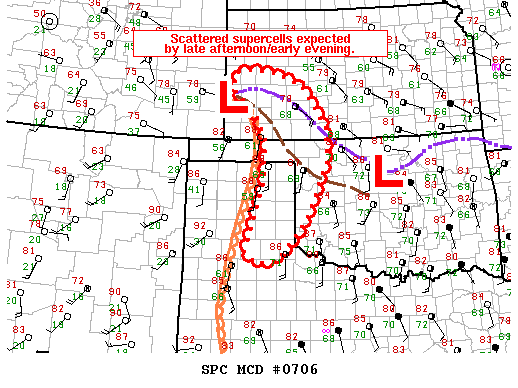 We crossed the border around 4pm CDT and arrived in Minneola Ks just as the first storm of the day went up west of town. It was a bomb. Crisp, rock hard updraft with classic signs of supercellular development. We stopped for gas and pushed north about two miles until we hit a dirt road. Thats where we ran into Tim Marquis and Gabe Garfield for the 3rd time in as many days. The storm had been up for probably no more than 20 min at that point, but surprisingly it became tornado warned.
---
---
We watched as the storm with a beautiful vaulted updraft spun up violently. A wall cloud quickly formed and we plunged west to go after it. After pulling west and north about 2 miles, we watched as the wall cloud try to wrap up. We repositioned and saw the first funnel. A big beefy horizontal tube out of the side of the wall cloud. I had never seen anything like it. You could see the horizontal vorticity being tilted in real time. Apparently this funnel was on the ground but we couldn't confirm.  The storm cycled and a new new funnel formed and touched down. What followed next was what can only be described as the most epic tornadofest of my life. We followed the storm from Southwest of Dodge City to near Jet and witnessed 14 tornadoes. There were multiple instances of simultaneous tornadoes as the storm spun, spun and spun some more. We called it a day after getting pinched by two storms and bailed south to DDC. We stopped to take pictures of the sunset and the best mammatus I have ever seen.
---
---
---