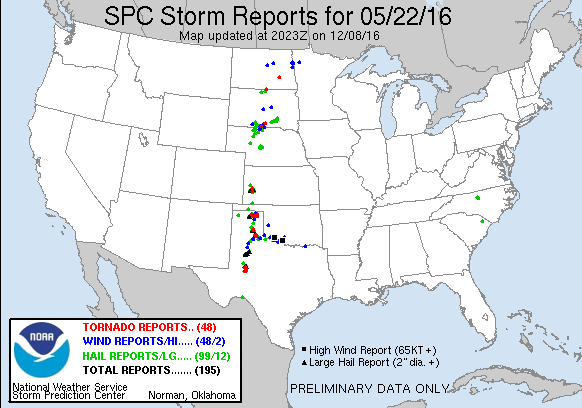 ---
---
Tornadoes: 4
Hail: (Nickel)
Wind (50+ mph)
Chasers encountered: Gabe Garfield, Tim Marquis.
Chased with:
Mark Kleinwechter, Kelton Halbert, James Gustina, Cj Sayre, Sean Ernst (Trunk Monkey).
Miles: ??
Speeding Tickets: 1 🙁
---
Started the day in Norman leaving around 10:30. I had ordered my gopro two days before and it was expected to arrive that day but we left just two hours before it came. We flew west on I-40 before being pulled over by Highway patrol near Wheeler. One 250 dollar Txdot ticket later we were on our way again. Obs were showing decent clearing in the Texas Panhandle and I was rearing to go south toward a patch of developing cu. Luckily Kelton talked me out if it and we held our ground, grabbing some food at DQ.
---
---
While eating lunch an MD came out saying TOR watch likely in the next few hours. We waited for a while. Not long later a storm finally went up near Clarendon. We watched it from TX 287 for around an hour following it and repositioning. It seems like we took 287 every which way this day.  The storm looked impressive for a while with a nice wall cloud but surrounding convection was quickly filling in and we weren't liking the appearance. It looked its best here.
---
---
After briefly meeting up with Gabe and Tim we decided to drop the storm in hopes of catching some others down near Memphis and Lakeview. As is tradition, as soon as we were 20 min away from our storm it tornadoed. The Howardwhick tornado was an odd ugly thing, but we missed it and I was pissed. We thought about turning around but decided to trudge ahead down 287. We stopped briefly to observe a distant wall cloud on the now HP storm we were trying to get too. Unfortunately the roads sucked. Palo Duro canyon messes the roads up in that part of the panhandle such that you often have to get creative. Most of the car was content sitting away from the storms but we were not. We grew tired of waiting 15 miles away from the storm and both decided that we needed to be more aggressive. It wouldn't be easy and wed likely have to ride dangerously close to the meso but we decided to push to Lakeview and try to beat the storm. We did not beat it. We got cored several miles before out turn off. We had split two mesocyclones. through the rain to the north we could see the rapidly spinning and occluding meso. We thought it would put down a tornado but after a few minutes it didn't. We turned around to avoid the big hail and Jamie found us paved county road going south.  This would put us on he forward flank of the storm. It ended up being a godsend as we cleared the rain we had a perfect view of a rapidly rotating wall cloud. CG's began raining from the storm so intensely many had to seek shelter in the car. Inflow was easily 50+ mph and we struggled to keep the tripods down. After a few minutes several weak tornadoes touched down and danced across open country side for our amusement. Most of my pictures are crap so shitty video will have to suffice.
---
After we repositioned we had a surprise scare with a satellite tornado just down the road. We got pretty close before realizing it was just up the road. We bailed after that as the storm became messy.  We went and had steak to celebrate our 4 tornadoes and drove home to prepare for another chase day.
---