---
---
Tornadoes: 2 or 3?
Hail: nickle (0.5)
Winds: (50mph)
Miles: 300ish
Chased with:
Mark Kleinwechter, James Gustina, and Mitchell Kelleher.
Chasers encountered:
Austin King, Tyler Bell, Cj Sayre, Ben Davis, David Harrison, and Nick Cooper.
---
Sitting up the night before, we all knew it was going to be a big day with a lot of questions. Models had been hinting for 5 days that a big outbreak was expected, but as we got closer something seemed amiss. The cap was relatively weak between -75 to -150 j/kg of MLCINH. Given the strong dynamics in play that was going to mean a lot of storms and storm interactions.  We kinda brushed this off as observations were showing a slightly stronger cap and more explosive isolated supercell development. We targeted NW Oklahoma for the best shear and instability combo and if things did get messy this was the least likely place.
---
Waking up that morning it had the classic tornado day feel to it. It was juicy, with upper 60's to low 70's dewpoints in the area. The wind was southeast at 15 mph.  Morning ACCAS was flying north on a 40 kt low level jet. We took one look at the obs and settled on going up 287 toward Woodward. We stopped near Arnett, Ok around 2 pm with Austin and Tyler as storms began to develop across sw Oklahoma. Things hadn't panned out like we had hoped, and storms blew up all at once. The lead SW OK storm dropped a nice tornado near Duke but things quickly filled into a giant mess with lots of storm interactions. We held our position north as cells began to develop.
---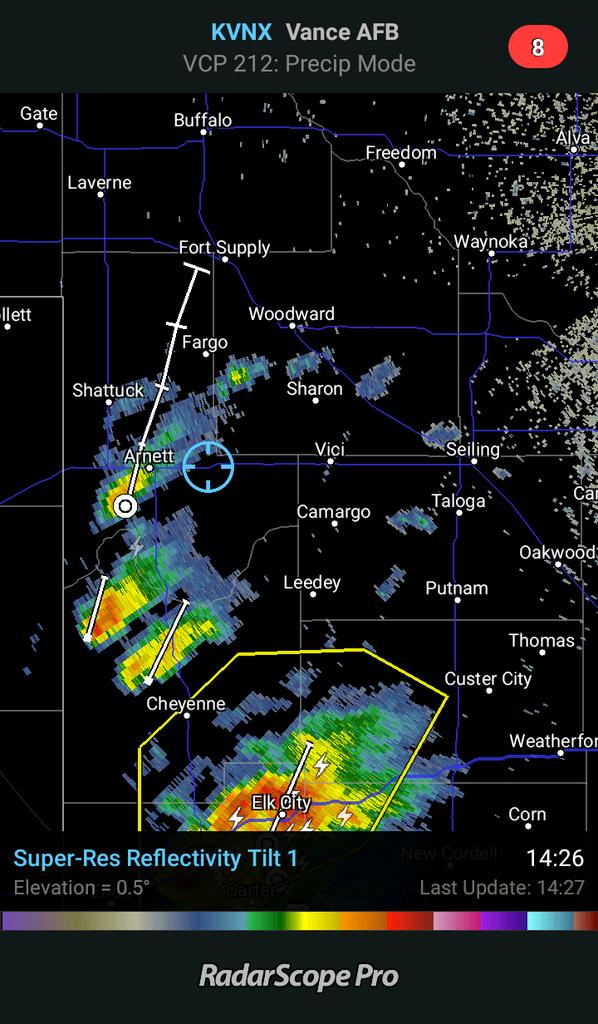 ---
Our storm began to develop and eventually took on supercell traits near Fargo, Oklahoma. A nice rainfree base developed and we could feel tons of inflow being pulled in. However the storm quickly went HP north of Woodward and we were unable to keep up with it as it blasted off to the north. The roads around that area were not great and the heavy rain meant it was difficult to keep up. It went on to produce a weak tornado in the rain as we dropped the storm for new cells coming back up from the south.
---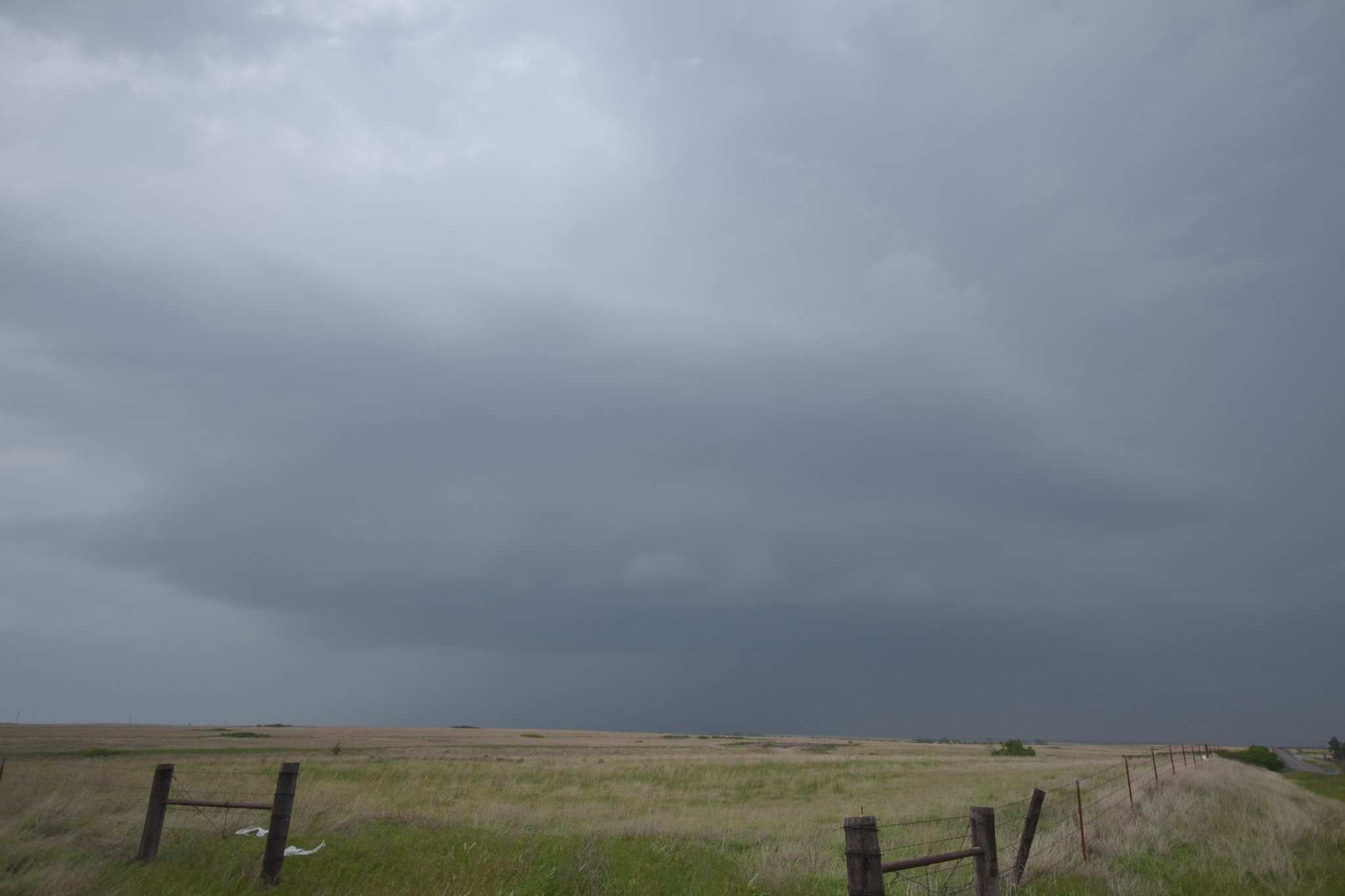 ---
As we bailed south east along Ok-50 we set our sights on a new storm coming from SW of Seiling, Ok. It really didn't look that great as it was sitting in the beam blockage of the Vance WSR-88D. The geniuses who built that radar put it next to a hill which severely attenuates a 40 degree arc of the lowest 2 elevation slices pointing to the west. However given its somewhat crappy appearance on radar it was our only play and was tornado warned. As we got closer a confirmed tornado was called out and we got excited as it was going to pass very close to us. The only problem was terrain was going to get a little hairy as we were entering a very rugged part of Oklahoma with many buttes and small canyons. The gods were in our favor as we exited south onto a gravel Country Road 2360. The storm had a gorgeous vaulted updraft that was just barely poking through the rain. We sat in the forward flank rain for just a while longer until we could finally see what was going on. A nice big snaking tornado over the Gloss Mountain Bluffs!
---
---
We observed to first tornado from the red dot about 10 miles to the north east looking southwest toward Seiling. We are the red dot on the Radar image.
---
---
We sat and watched the tornado get closer and dissipate before we realized the storm was going to go to our northwest and we re-positioned north. We stopped a few times and saw what appeared to be a new tornado develop directly west of us about 6 miles on County 2360 North.
---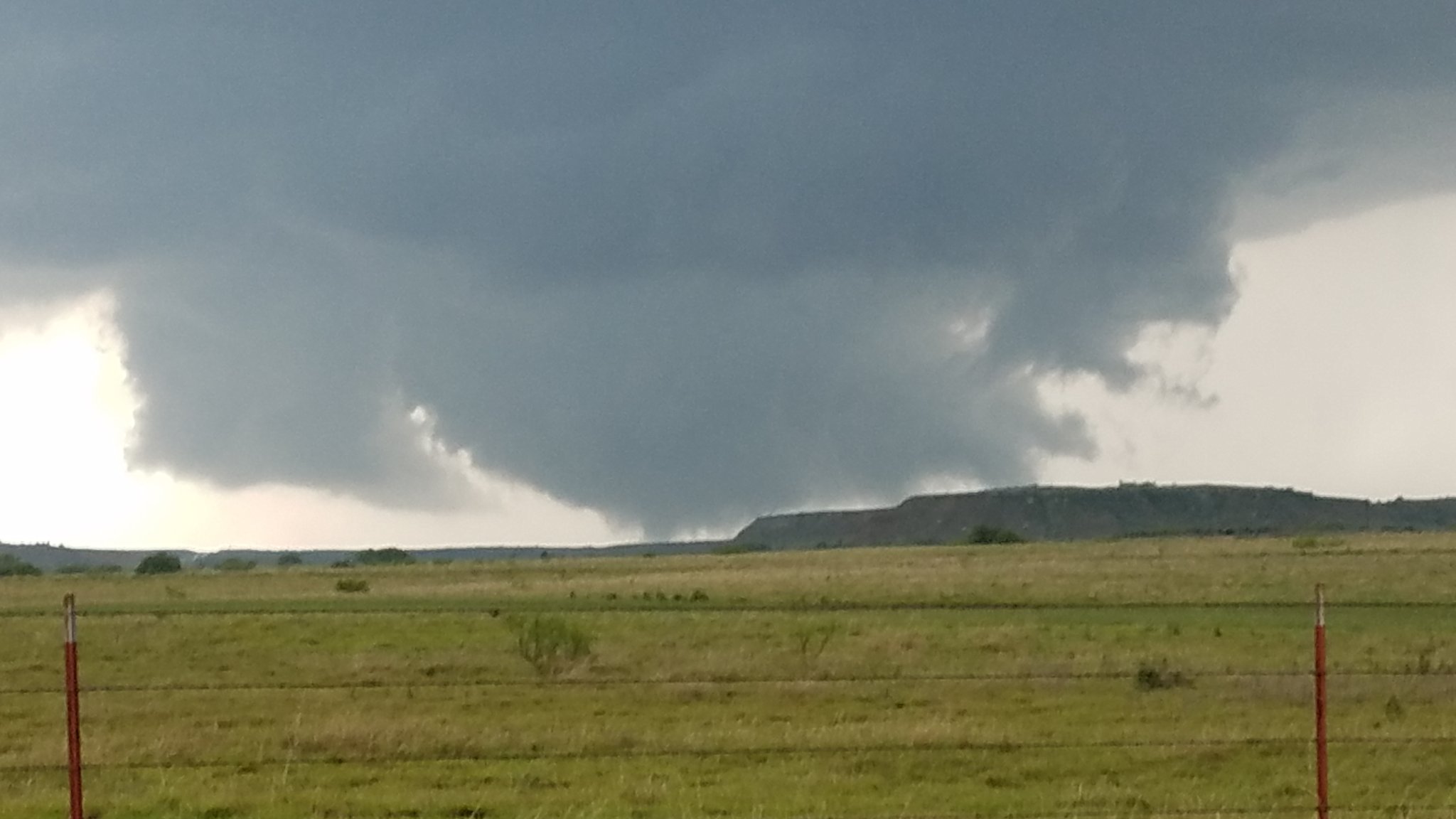 ---
Here is our position relative to the 2nd tornado sighting.
---
---
Once back north of 50 we lost sight of the tornado until we rounded the bend near the Cimmaron river. We got a great view as the tornado moved north of us toward Waynoka. There was even a crazy farmer standing on his tractor filming it.
---
#tornado still in progress 5 south waynoka ok. @NWSNorman #okwx pic.twitter.com/T6i2BY3bRo

— TwisterkidMedia (@TwisterKidMedia) May 18, 2017
---
After the tornado dissipated we tried to catch some other storms but the environment was so worked over everything else was fizzling out. We called the chase and at the request of Mitch, found a steakhouse and had some bloomin onions and steak. One of the best chase days of the year but a difficult one at that.
---
Here are the approximate locations of all the tornadoes we observed. Tornadoes 2 and 3 may have been the same one.
---
---
---