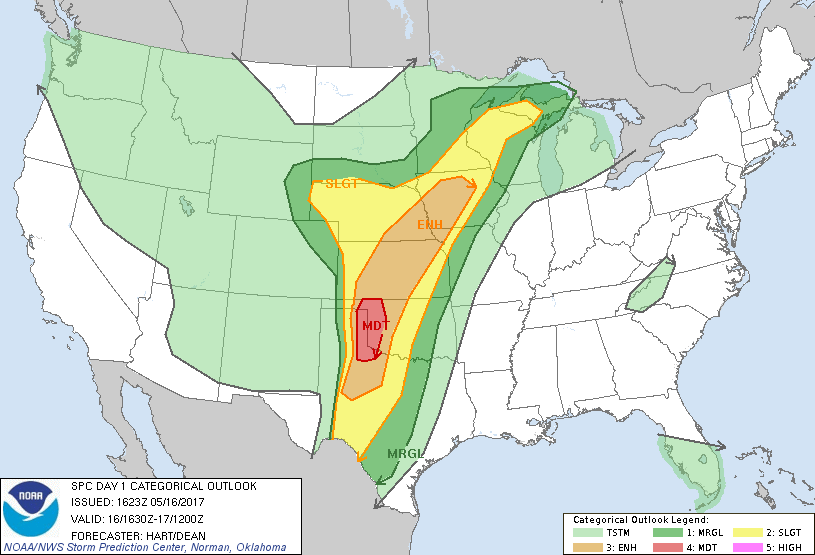 ---
---
TORNADOES: 1
HAIL: 2.0 INCHES (HEN EGG)
WINDS: 50 MPH
MILES DRIVEN: 500ish
CHASED WITH:
Mitchell Kelleher, Mark Klienwechter, Cj Sayer, Tyler Snider, Anya Snider, Austin King, Tyler Bell, and Ben Davis.
PRAIRIE CHICKENS MURDERED: 1
---
My first chase of the chasecation 2k17 would come on a Tuesday in the Texas panhandle. We had seen this day coming for a long time and it looked primed for severe weather. We got out the door around 10 am and made our way west on 40. This would be my first test of the setup inside my new Hyundai Santa fe Sport. Overall, I was super happy with the car and the layout. We stopped in Shamrock, Tx for a quick lunch at DQ where I ran into Brandon Sullivan, Rich Thompson, Brett Wright, and Sean Ernst. Storms were beginning to go up north, but our target further south was still capped. Cj was on his way back from a job interview in Dallas and was going to convoy with us once we met up with Austin and Tyler. We went West out of Shamrock and got on Tx 70 south toward Clarendon. At that point storms began to blow up. The problem with this area is the road network. In simple terms, it sucks. Caprock Canyons State Park is in the middle of a giant road hole with the salt fork of the Red River carving through it. It makes for great scenery but is a bitch to navigate. More on that later.
---
We met up with Austin and Tyler Just north of Clarendon, Tx as the storm got its act together. It was rotating strongly already and feeder cells were developing on the southern flank.
---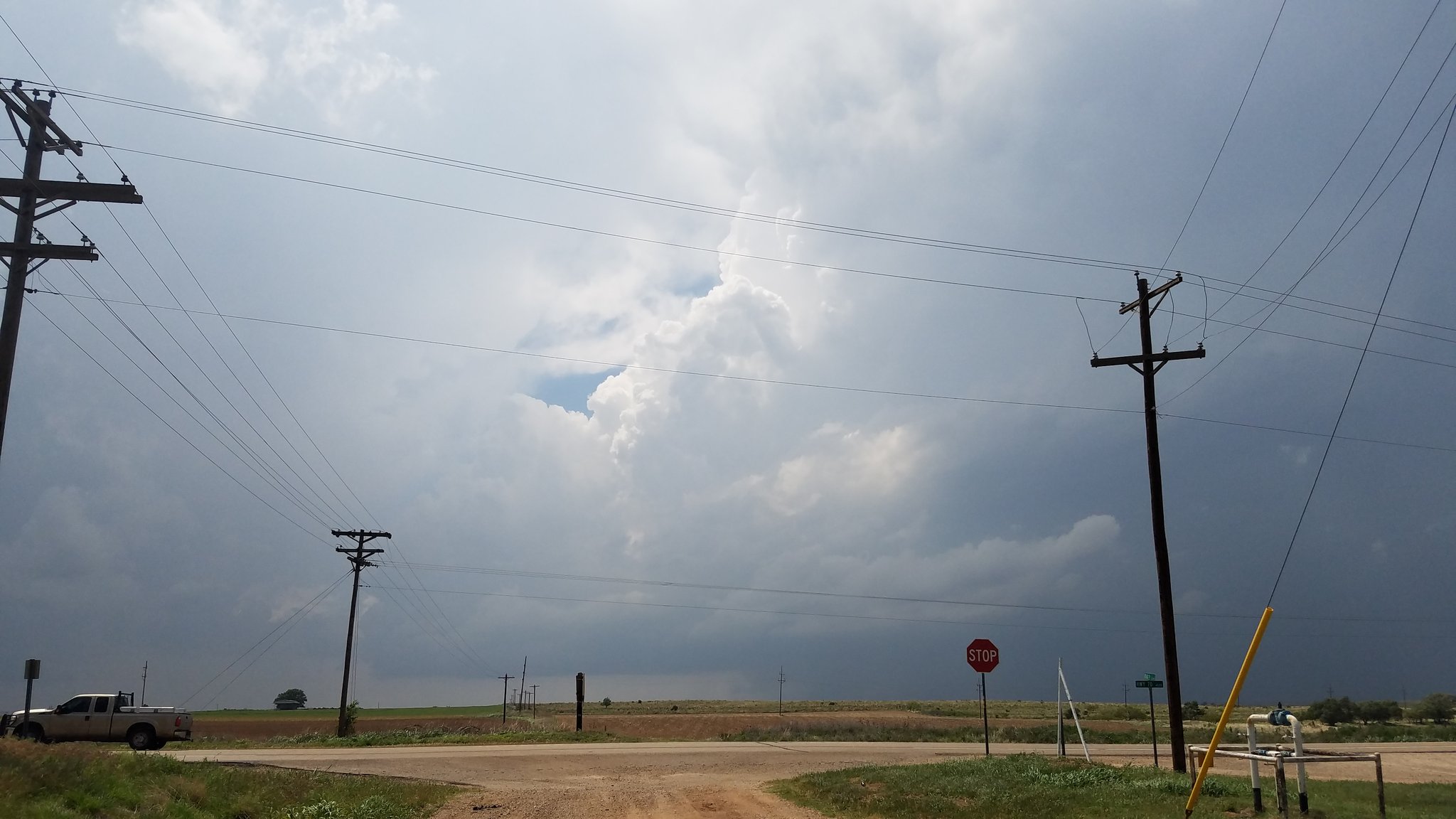 ---
Austin pushed north and we waited a few more minutes so CJ could join us and steal Ben as his navigator. We pushed south through Clarendon and then moved east to farm road 1260 and went north. During that time the northern storm became tornado warned but was buried in the core of the southern supercell which was just starting to take shape. We opted to leave the northern cell alone and focus on the southern one. We found a nice pull off and watched awesome supercell structure on the second storm for 20 minutes. I thought it was going to tornado there but of course it never does.
---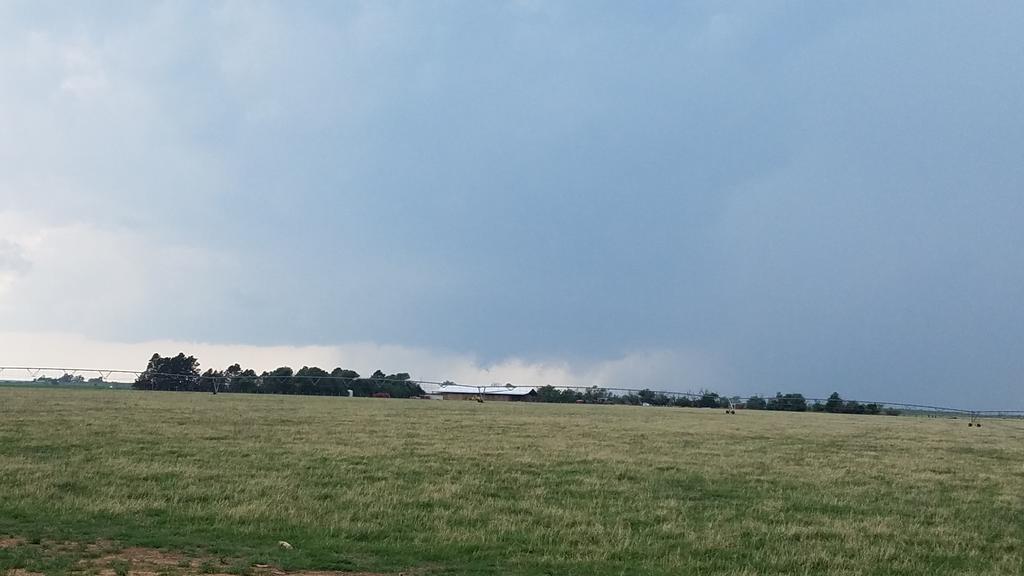 ---
We went north on 1260 crossing the river and soon found the path was dirt and mud. This wouldn't have been a huge problem normally, but with CJ's 2 wheel drive mustang in convoy, it was impassable. We circled back around looking for another route.
---
We doubled back on 1260 and hoped east onto 2471 and got over to 273 North. This paved option took us due north through the Canyon and toward MClean. As we did that I noticed an odd protrusion from the clouds. As we came over a hill and into a huge chaser jam, we realized it was the end of the Mclean tornado. We grabbed some quick video and marveled at the 2 inch hail stones lying on the ground.
---
---
While we didn't get the best video or view of the storm, we did see it and this was Mitch's first tornado! We had lived up to the promise of getting him one.  The rest of the chase was pretty uneventful. We followed the storm north to Mclean where we tried to get gas. A bunch of highway travelers on I 40 had taken shelter in the gas station which made it impossible for us to fuel up. I yelled toward a general group of people, "The tornado has dissipated, if you are traveling west you are safe to continue, if you are traveling east, I suggest you don't." That seemed to get everyone into motion and the gas station attendant asked me to talk to a few more people inside. I told them I was a storm chaser/ meteorologist and they were safe. After I was done playing traffic cop, we were able to fuel up and continue east. By this time a second supercell had started cranking further south and east. We got pictures of it on our way back east on I-40.  Austin and Tyler had already bailed to this storm and were telling us it looked pretty good. We didn't feel like we would be able to get in front of the storm as it crossed I 40. This ended up being a mistake as the storm produced an EF-2 tornado in Elk City Oklahoma. Our original storm fizzled and proved difficult to keep up with. As Mitch put it, "We were behind from the start". That's exactly what the day felt like as we just couldn't keep up with things. Our storm had reported tornadoes but we were never close enough to see them. We kept blasting east trying to keep up with it where we had an unfortunate event with the local fauna. A prairie chicken tried to run across the road in front of us at 65 mph. We smacked it head on and the car behind us laughed as feathers rained from the sky.
---
---
We bailed on our storm as we made it back into Oklahoma and decided to try and cut off the Elk City cell in Clinton. We got in front of it where it had a nice wall cloud but quickly began to weaken as sunset approached. The storm barrelled over us with strong RFD but never returned to its origional state. We headed home after food in Weatherford. I had an interview to get read for the next day, and Wednesday the 18th also looked like a chase day. While it wasn't the best start, we had netted a tornado and seen some storms.